Taylor Made Polish
Taylor Made Polish is 8-free, which means we've eliminated the 8 top most toxic ingredients typically found in nail polish. Share a Mother's Day polish-creating event with Mom, or design your own custom polish color as a Mother's Day gift!
Visit our site for more information on polish parties, our toxin-free polish and cosmetics line, and all make-your-own-polish experiences we offer.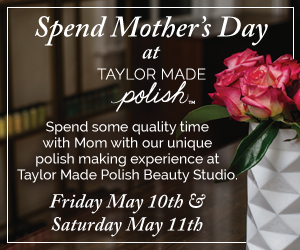 Taylor Made Studio
437 Northampton Street
Easton, PA 18042
Ph: 484-548-0367
info@taylormadepolish.com
20 % Off Printable Coupon on all Fiction (Grown Up) Mother's Day Weekend ONLY at Book and Puppet Co!
Just for you, Easton Area Macaroni Kid peeps--a printable 20% off coupon for any adult fiction book from Book and Puppet Co. This coupon is good for Mother's Day weekend ONLY!
But Mom a wonderful book, and leave her alone for a few hours so she can READ IT!!! Best Mother's Day gift EVER!!!
466 Northampton St, Easton, Pennsylvania 18042, Easton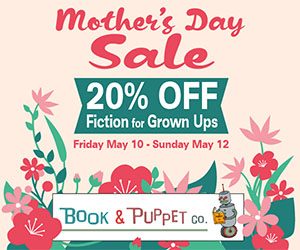 Mother's Day Tea and Crumpets with Pout-Pout Fish
Treat Mom to a sweet and silly Mother's Day at Book & Puppet Co.

1:00 pm - Mother's Day Puppet Show
2:00 pm - A visit with Pout-Pout Fish!
2:15 pm - Tea and crumpets, with butter and jam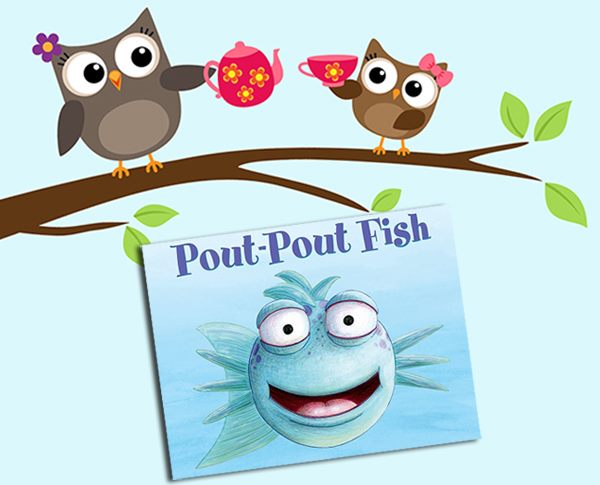 Mother's Day Weekend at the Lehigh Valley Zoo
Join us here at the Lehigh Valley Zoo on Saturday, May 11th and Sunday, May 12th to celebrate Mother's Day at the Zoo!
We will have an exciting line up of hands-on activities and interactive experiences including Q&A sessions at the Kangaroo exhibit, giraffe and lorikeet feedings, and a tour of our goat exhibit! Be sure to have the kids participate at our Mother's Day craft stations to make sentimental gifts Mom will love! Don't miss our daily keeper talks and up-close encounters with some of your favorite animals during our animal mingles in the exercise yard!
The first 200 mothers to arrive at the Zoo on Saturday and Sunday for Mother's Day Weekend will receive a free carnation!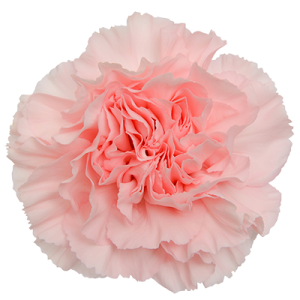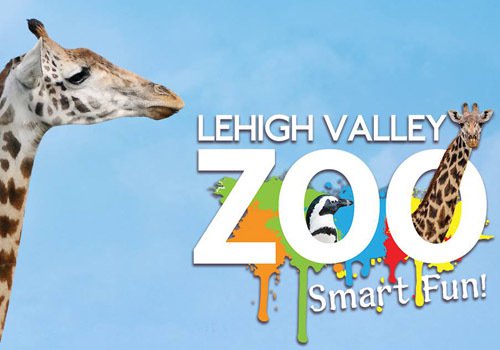 Stop by Saturday, May 11th from 11AM-2PM to check out local musician, John Rodden performing acoustic favorites! Then on Sunday, May 12th we'll be hosting a meet and greet with our resident Sloth, Bean! This experience will take place on Sunday from 10:30 AM until 11:30 AM!
Mothers' Day Brunch Cruise
Treat Mom to a one-of-a-kind experience at the National Canal Museum. Come aboard the mule-drawn Josiah White II canal boat for a one-hour cruise on the Lehigh Canal. Learn about life on the canal and the vital role mothers played from D&L historian Martha Capwell Fox. Light brunch and mimosas will be served during this unique Mother's Day event.
$25 per person (10% discount for members)
11:00 am - 12:00 pm
Website information and Ticket ordering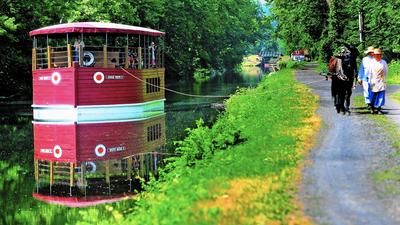 Mother's Day Brunch at Easton Wine Project
Join us for Mother's Day! ?? Our chef has prepared a delicious menu with suggested wine and cocktail pairings. We will have our regular full menu available as well. Live music! Kid friendly! Reservations are recommended.
(610) 438-2533
Email: info@eastonwineproject.com
1247 Simon Blvd Suite N103
Easton, PA 18042
Mother's Day Traditional Irish Tea Service @Easton Public Market
Sunday, May 8th
Two Available Seating's:
10:00am- 11:00am
11:30am to 12:30pm
$25/person
12 Seats Available (Per seating)
Experience Mother's Day with Chef Ceallach Tómas Ó Sé! Join us for a traditional Irish Tea Service featuring Fieldstone Coffee Roaster's teas. The Service will include soup, salad, an assortment of tea sandwiches, and assorted Irish sweets (all sourced from the Easton Market District). Chef Ceallach will demonstrate his delicious scone recipe and educate guests on the tradition of the Irish Tea Service.
Spend Mother's Day with the Easton Public Market!
Check out more from Chef Ceallach at: www.akiltandacuppa.com
Celebrate Mother's Day with Blue's Annual Buffet
On Sunday, May 12th, enjoy our annual buffet in the ballroom with gourmet stations, a brunch buffet and children's meals. Limited seating available from 10 am – 2 pm. Make your reservations today by calling 610-691-8400!
Full Dinner Menu and Chef's Features will also be served in our dining room on Mother's Day from 12 – 8 pm.
View Mother's Day Buffet Menu.
4431 Easton Avenue
Bethlehem, PA 18020
610-691-8400
Mother's Day Brunch @ The View at Morgan Hill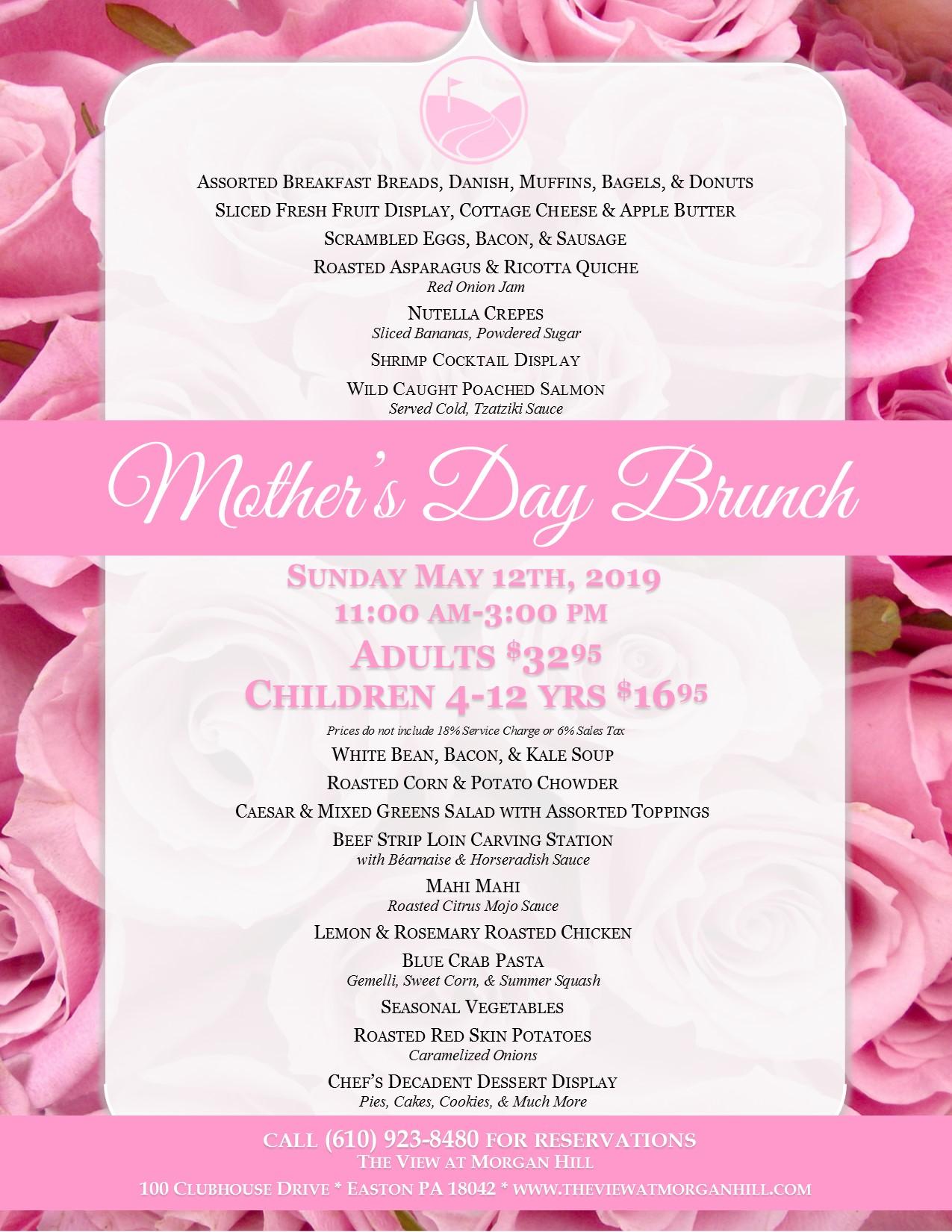 Mother's Day Brunch at Ashley's Signature Restaurant
Join us for our annual Mother's Day Brunch at Ashley's! We have three seating times! 11:00AM, 1:00PM & 3:00PM. Reservations only.
(610) 253-1971
ashleysineaston@gmail.com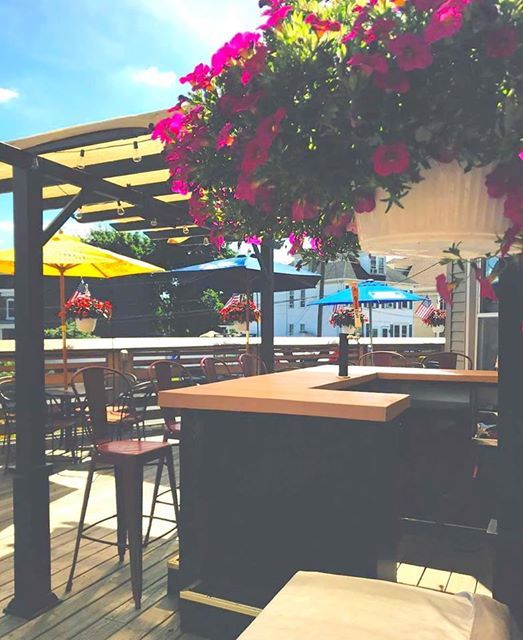 Mother's Day Luncheon at Four Sisters Winery
Sun, 12 May 2019, 04:00 PM -
Sun, 12 May 2019, 08:00 PM
MOTHER'S DAY LUNCHEON at FOUR SISTERS WINERY Sunday, May 12th, 12-4 pm ITALIAN CHEF, MATTY MATARAZZO PROMISES A MEAL FIT FOR YOUR MOM AS HE PREPARES THE TRADITIONAL MOTHER'S DAY DINNER OF ROASTED TURKEY AND BAKED HAM WITH ALL THE TRIMMINGS. Roasted vegetables, home-style mashed potatoes, a Caesar salad with bread and a delicious dessert that compliments the dinner. The Wine Bar and Live Music will entertain guests from 12noon – 4 pm. A buffet- style dinner will be served from 1 pm – 2:30. We May Be Right - a Billy Joel Tribute band returns to Four Sisters Winery for this festive day. "We May Be Right" takes great care to reproduce every nuance, every riff, every note of the songs they play. It's why this new band on the scene is poised to be one of the very best Billy Joel tribute groups out there. ALL FOR $35.00 INCLUDING TAX. Ages 4 - 10 $18 per person including tax. Ages 3 and under Free. Tickets are REQUIRED by calling 908-475-3671 FREE WINE TASTING AND A FREE GLASS OF WINE FOR EACH MOM ATTENDING. Bring the whole family, stay as long as you like and experience a wonderful day at the winery.
Same Day Flower Delivery from THE FLOWER CART
The Flower Cart has flowers for Mother's Day that will suit any style and offers Mother's Day flower delivery to Easton, PA or nationwide! Wish her a Happy Mother's Day with a beautiful bouquet of flowers, the perfect Mother's Day gift!
The Flower Cart
377 S. Nulton Ave.
Easton, PA 18045
(610) 253-1744 || (800) 732-9332
Open Canvas Painting Workshop at smARTivities Showcase
Share the gift of art creation with Mom at smARTivities Showcase!
Come paint your own masterpiece in this open canvas painting workshop! Choose your canvas, design your own subject, and mix your own colors! The possibilities are endless!
Technique assistance and all supplies included.
60 Centre Square, Easton, PA, 18042
Ages 7+
Instructed By: April Khalil
#artclass #painting #specialevent #kids #teens #seniors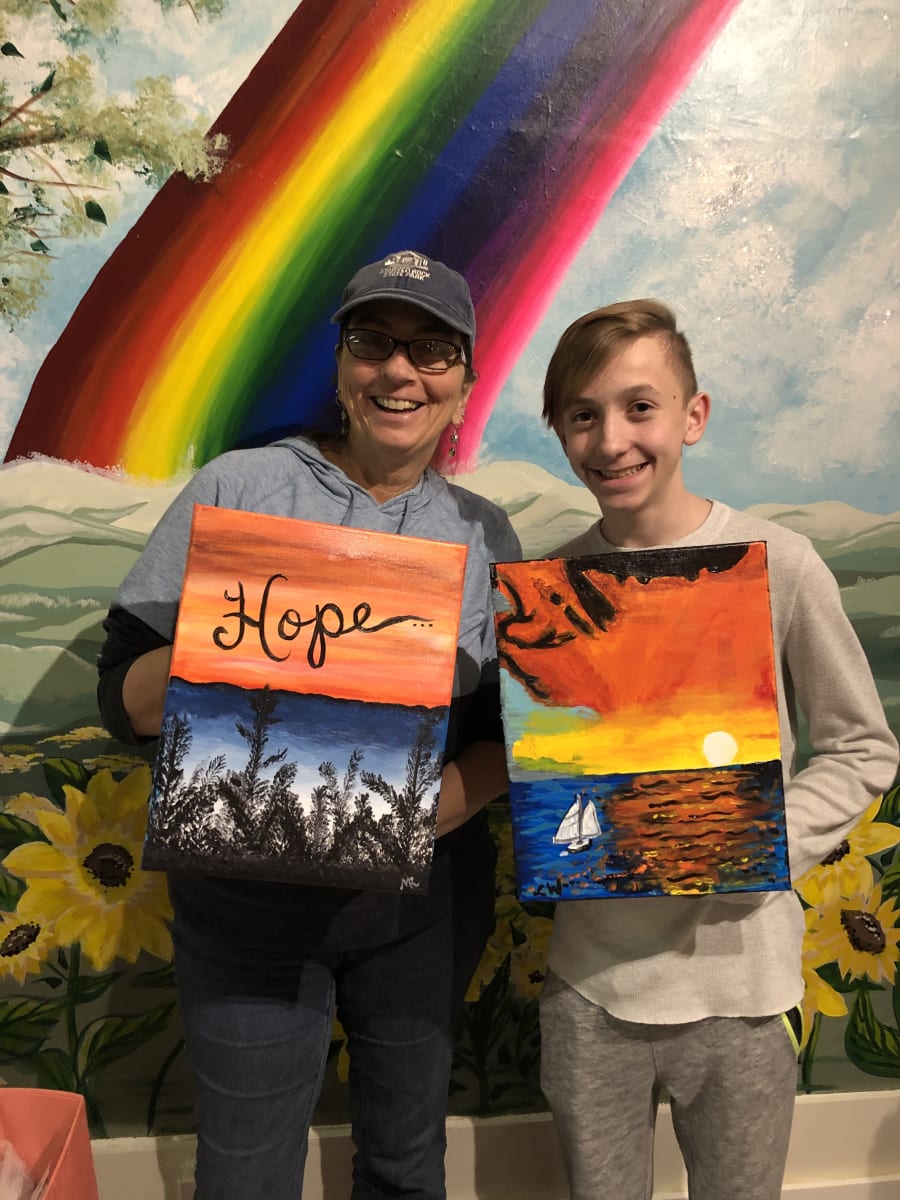 Modern Flower Arrangement For Mothers Day from Bloomies by Lille Syster
Send Mom a unique hanging flower arrangement for Mother's Day!

Roses are arranged In a unique glass hanging terrarium. This design features red roses but can be created in any color! Just leave a note at check out.

Once the flowers are done, reuse the hanging terrarium in your home as decoration. Perfect gift for mom on mother's day.

Bloomie's delivers fresh flowers to all addresses in Easton, Palmer, Forks, Wilson, Williams Township, Phillipsburg and more.
Bloomies by Lille Syster
21 N. 2nd Easton, PA. 18042(610) 258-6331
Home Organization and Tidying from Talk and Tidy-Best Gift EVER!
Give Mom what she REALLY wants this Mother's Day! Talk and Tidy combines a sympathetic ear/counseling and home organization. #talkandtidy
Buy Mom a consultation with Jordana, and get 20 % off when you purchase it by Mother's Day!